Popeye's Supplements, it's: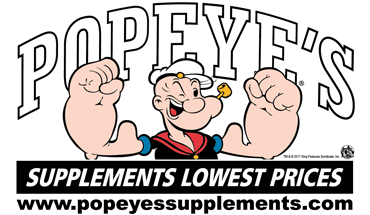 With over 25 years' experience and over 120 locations from coast to coast, Popeye's Supplements is Canada's leader in sports nutrition. We aim to present our customers with the largest selection of Sports Nutrition and Health Products available today at the best prices. At Popeye's Supplements you will find a variety of proteins, fat burners, BCAAs, pre workout supplements, foundation supplements, creatine, glutamine and more.
TRY BEFORE YOU BUY SAMPLE STATIONS
: You are sure to find something that you'll look forward to drinking. Popeye's Supplements takes the risk out of buying a protein supplement that you won't enjoy the taste of as we can mix you a taste tester in store first!
THE BEST CUSTOMER SERVICE ON THE MARKET
: One simple thing: We make our customers our main priority! Our staff is constantly trained to help you find the best products that fit your needs. They are in store to listen to you and they will recommend some supplements without commission! No Pressure… Never!
EXCLUSIVE POPEYE'S VALUE SIZES
: 20% - 50% larger size on the most popular products and leading name brands in the industry today. These custom sizes give our customers the best absolute cost per serving and added value when purchasing these sizes.
WE CAN'T BE BEAT
: Best prices, always! We will beat any online or in stores advertised price!
POPEYE DOLLARS CUSTOMER REWARD PROGRAM
:No membership fees to join but enjoy 1 Popeye Dollar back for every $25.00 you spend before taxes. Save them up and redeem as many as you want whenever you want.